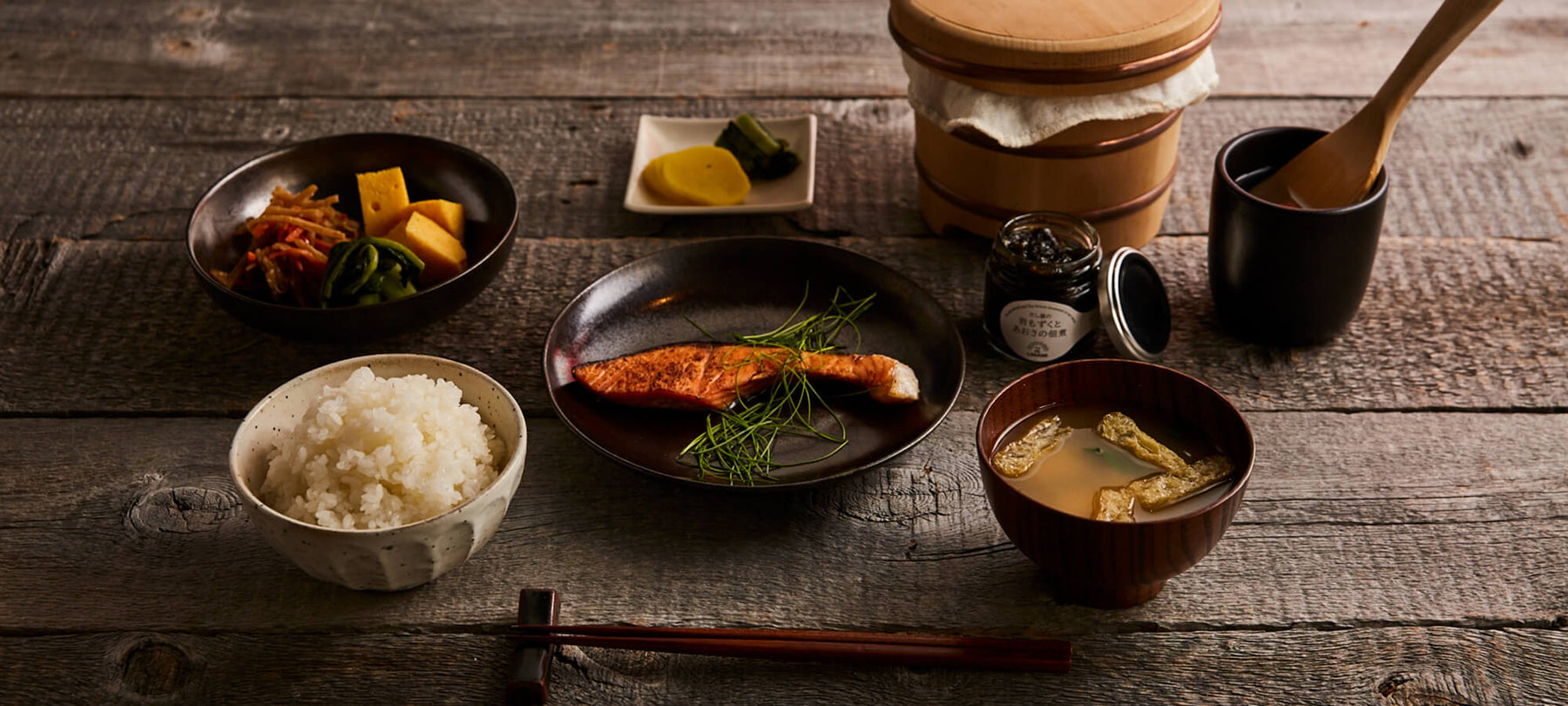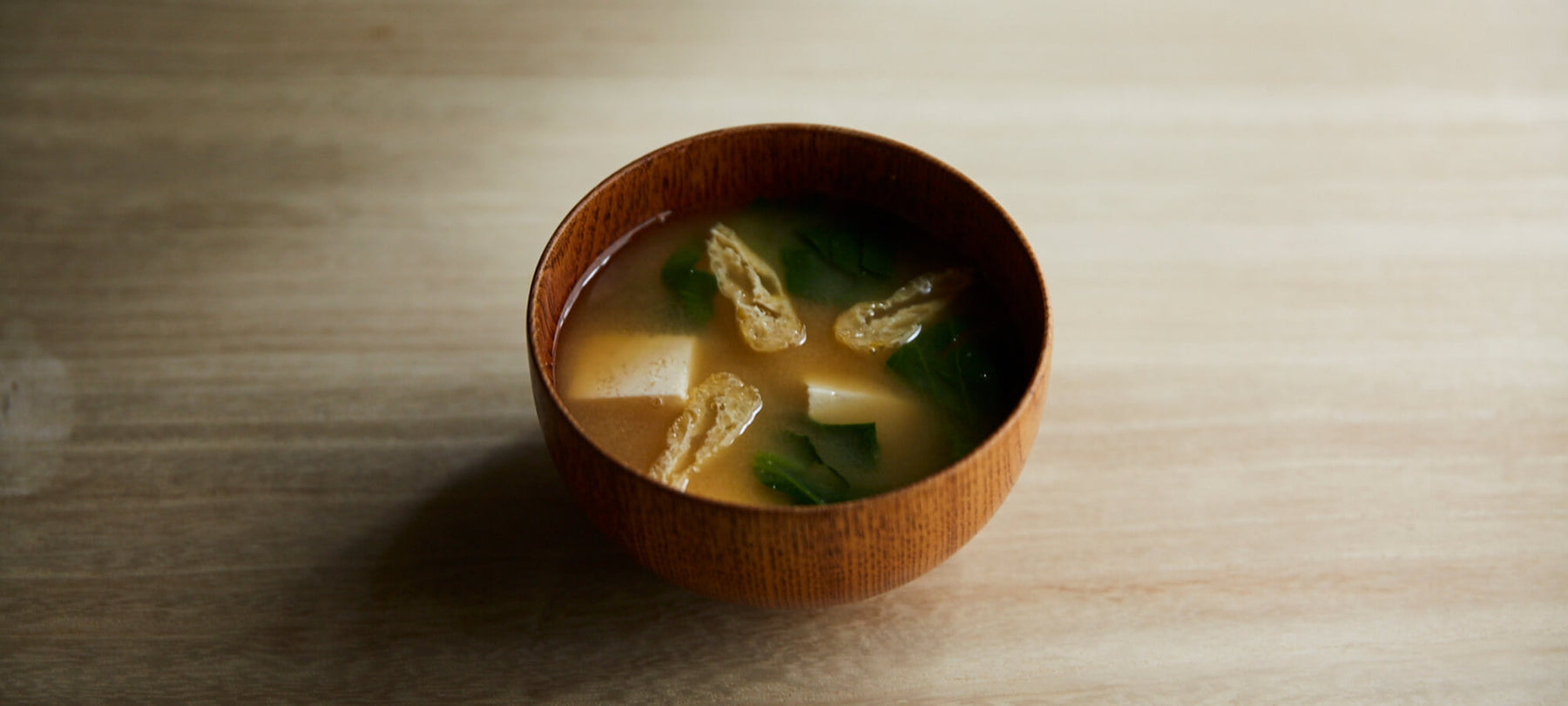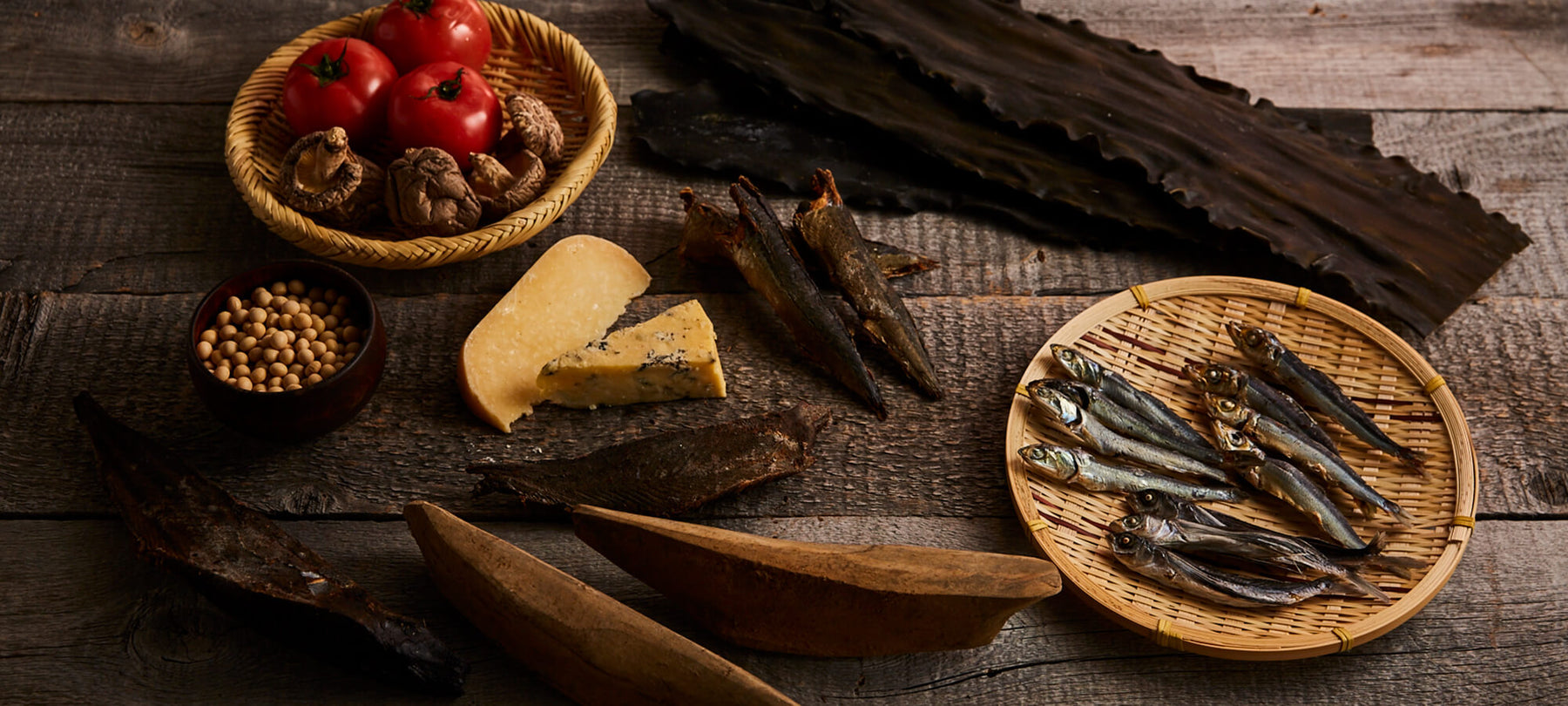 UMAMI TO THE WORLD
DASHI BROTH PACKET
Maximally drawing out the natural aroma and flavor, these are convenient dashi broth packet for home use.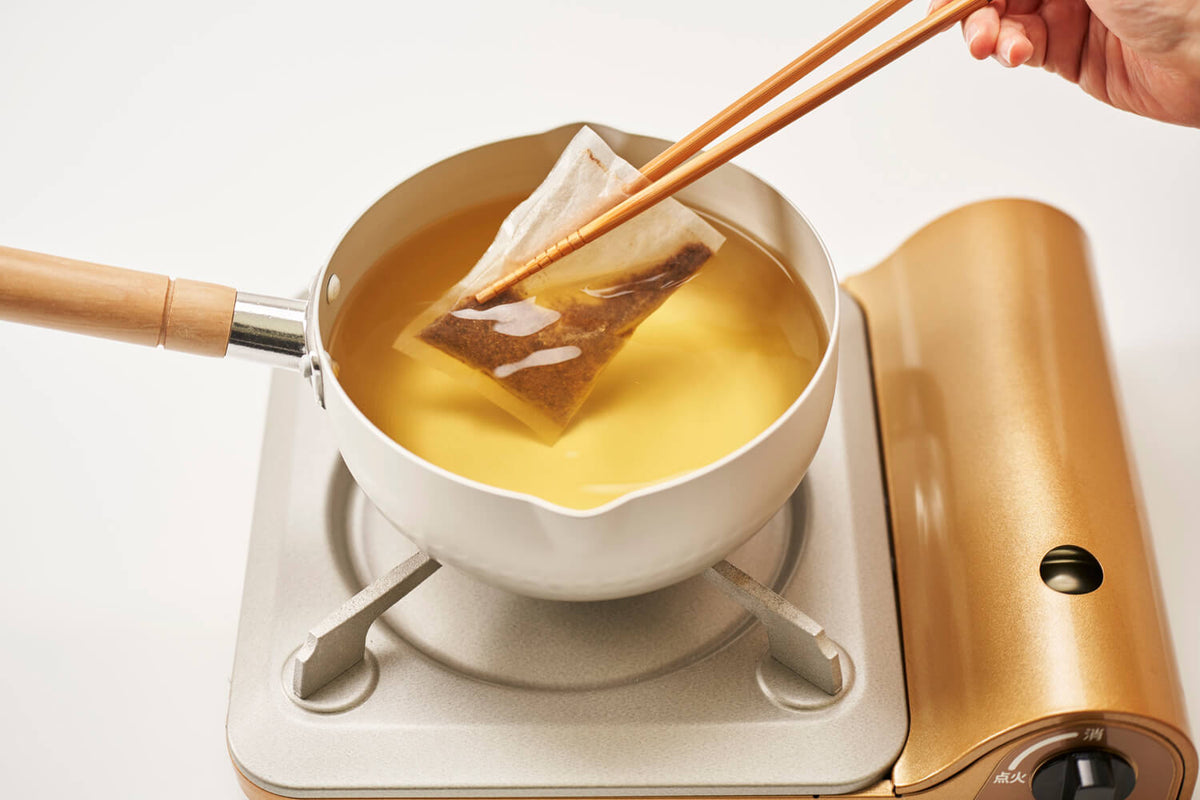 How to use our dashi broth packet
We introduce various ways of using our dashi broth packet to make use of it for a delicious flavor.
Learn More
LIQUID SEASONINGS
Ultimate Noodle sauce and Clear Shiro-dashi with potent UMAMI concentration.
SEASONED RICE
Professional quality with dashi maker's expertise for synergy.
TOPPNGS (SIDE DISHES)
The ultimate side dish, perfect blend of UMAMI from dashi and ingredients.
Vegetable UMAMI hand-drip dashi (drip filter included)
Five kinds of vegetables including onion, carrot, celery, potato, and ginger have been slowly dried over time to seal in their natural umami flavors. 
By combining these ingredients with dried tuna flakes in the drip, you can enjoy the delicate flavors and mellow taste of the resulting dashi that resembles a patiently simmered soup.
 "No chemical seasonings or preservatives added"
Net weight: 9.6g (0.34 oz)
Shelf life: 3 months when stored in a cool place.
How to store: Store in a cool, dry place, away from light.
Ingredients: Thin dried tuna flakes : Dried tuna / Dried vegetables : Carrot, Potato, Onion, Celery, Salt, Yeast extract / Powdered extract : Yeast extract seasonings (Salt, Yeast extract, Hydrolyzed starch (cassava, corn), Vegetable extract, Sugar, Powdered soy sauce (wheat, soybean, salt, cassava ), Edible oil (rice), Spices (white pepper, garlic, other)), Hydrolyzed starch (corn, potato, sweet potato), Powdered ginger
Food allergen info: Contains tuna, wheat, and soybeans
 Nutritional Information
Serving size: 1 packet (9.6g)
Calories: 30kcal
Total fat: 0g
Cholesterol: 3mg
Sodium: 370mg
Total carbohydrates: 5g
Protein: 3g
Product of JAPAN
How to prepare delicious dashi using the hand drip method
HOW TO MAKE GOOD DASHI
The hearty umami flavors of dashi prepared from onion, carrot, celery, potato, ginger, and dried young bluefin tuna flakes will help to relieve your stress.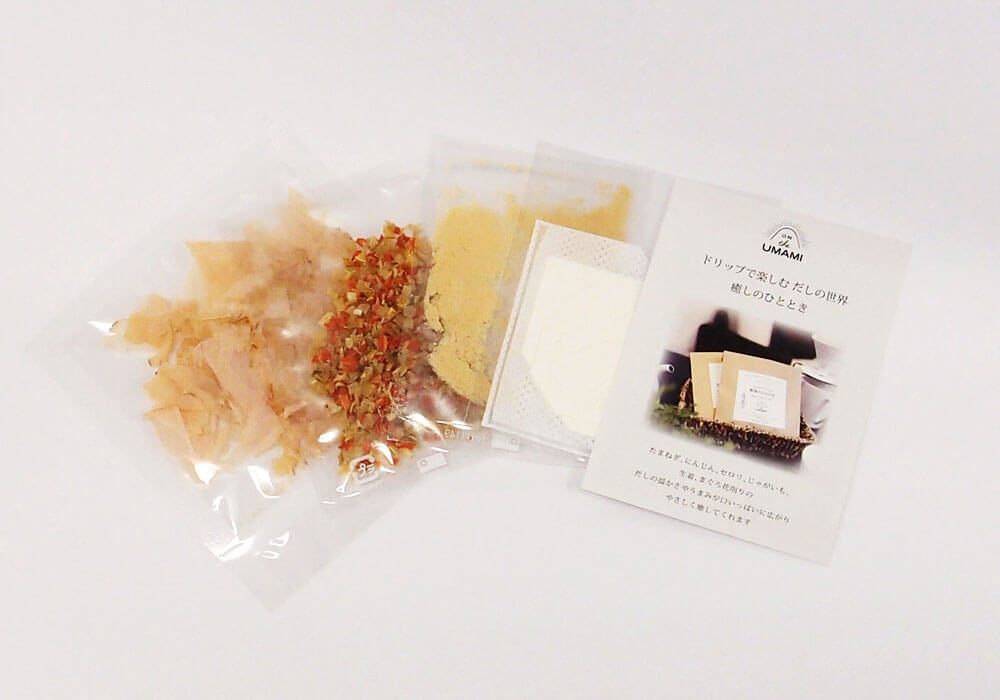 Ingredients (for 1 person)
・1 packet of "Vegetable UMAMI hand-drip dashi" ・200ml of water ・1 piece of filter (included in the packet)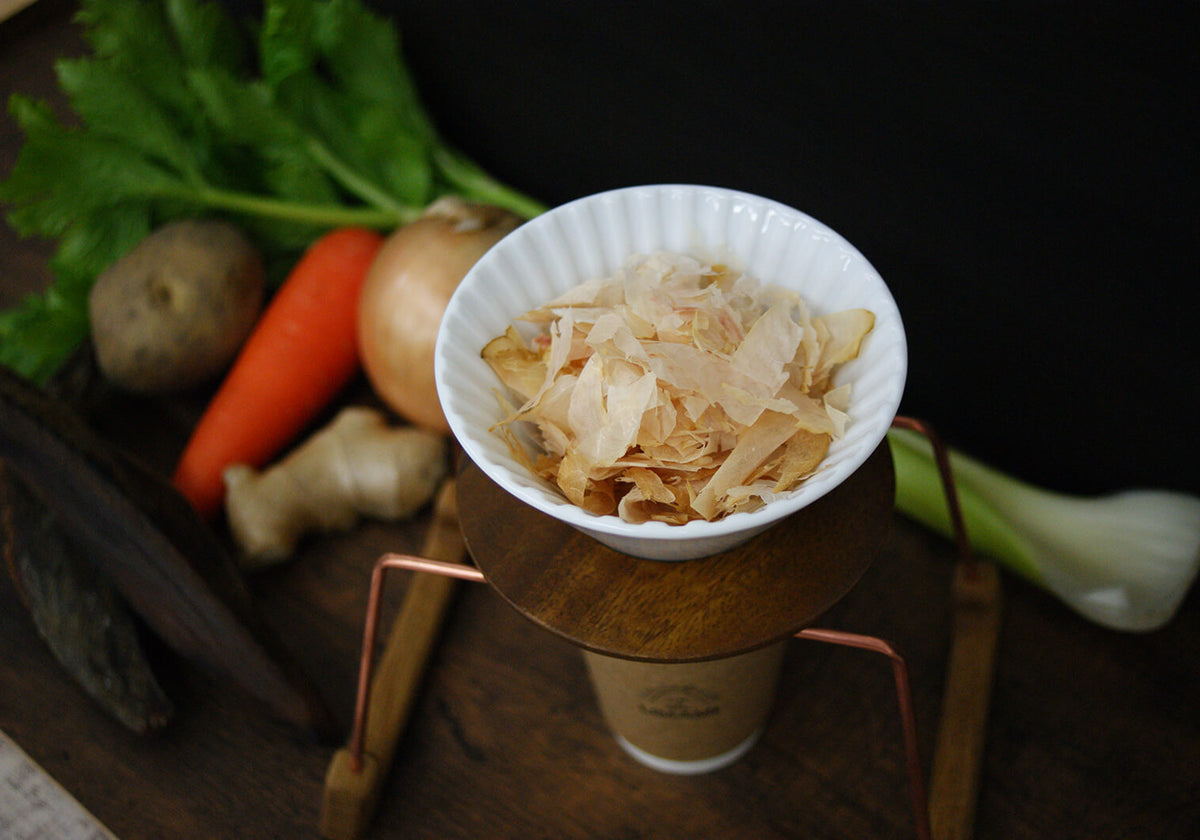 1. Step
Set the drip filter (included in the packet) in a cup. Add the "dried vegetables" and "powdered extract" and mix well. Add the "tuna flakes" on top.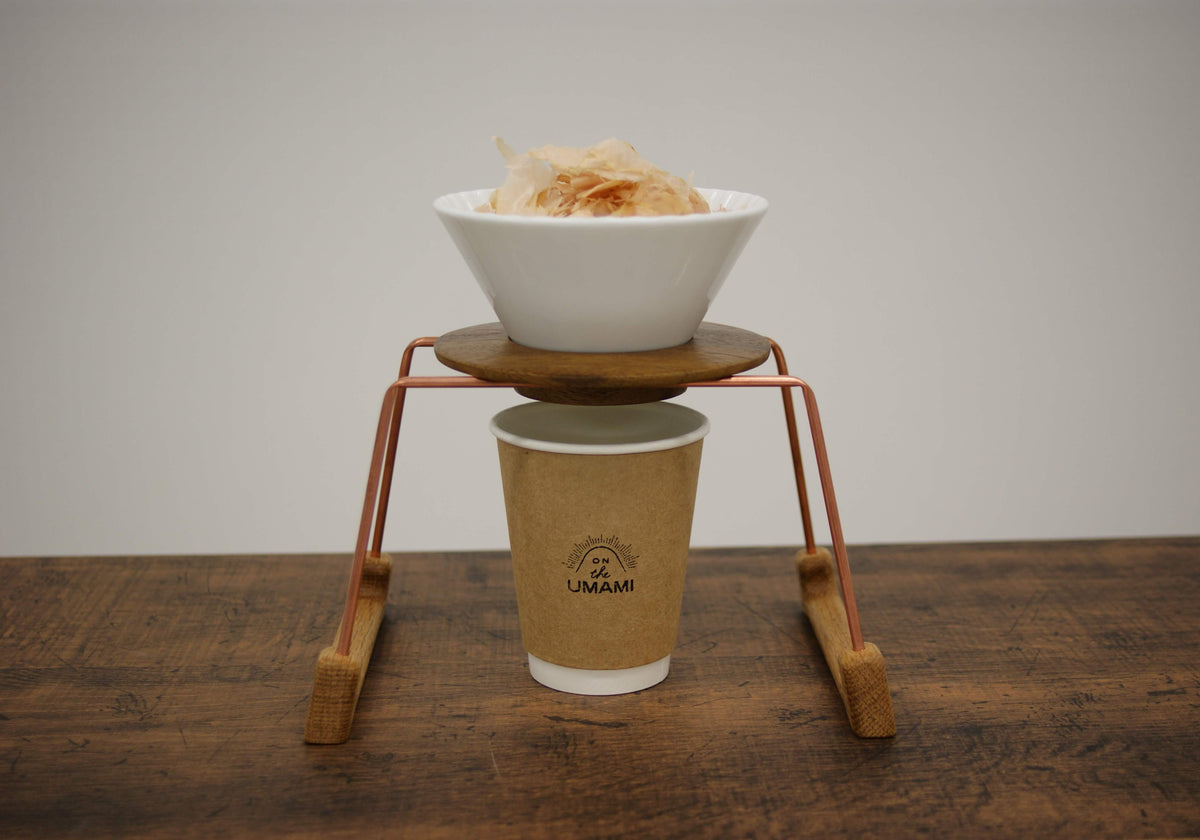 2. Step
Pour just enough boiling water to make all the tuna flakes moist and steep for 10 seconds.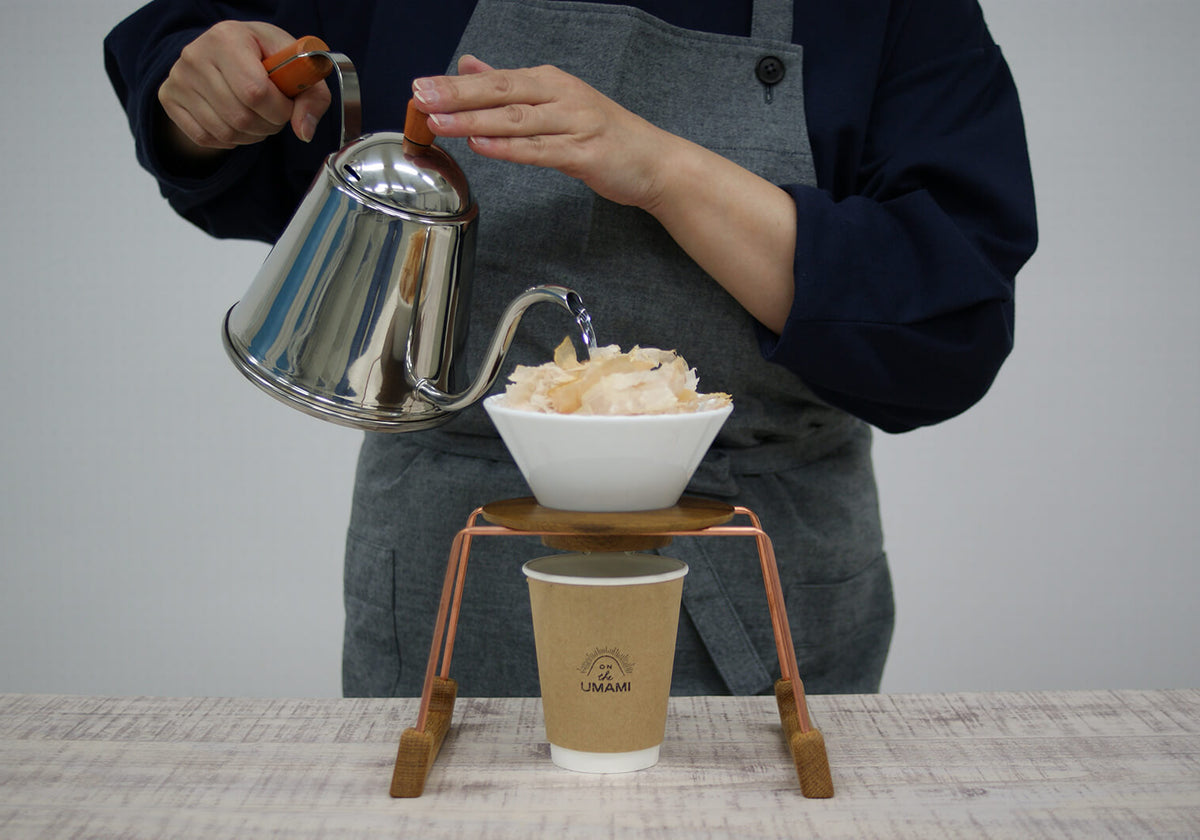 3. Step
Continue pouring hot water in several batches so that the paper filter is not directly in contact with the hot water.
Done.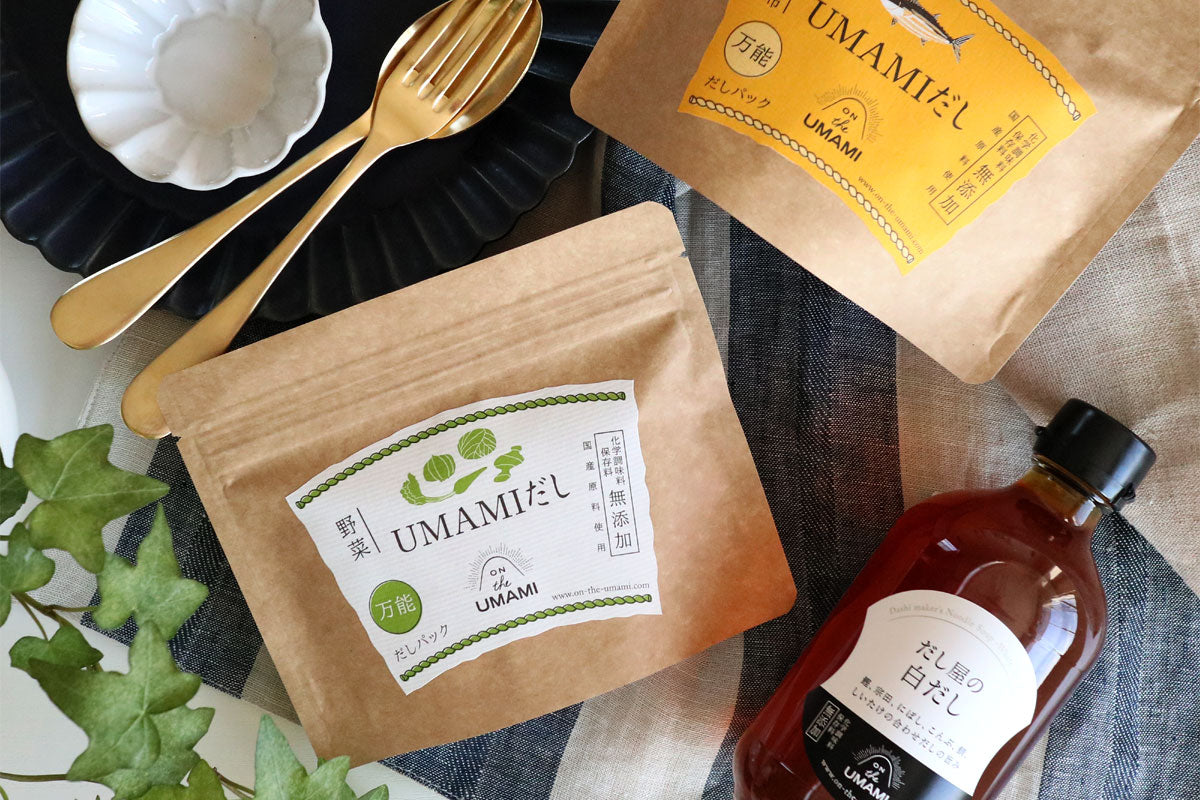 About "ON THE UMAMI"
Enrich and make life delicious
To extrapolate the best from the ingredients, to heighten the quality and to recognize the inherent UMAMI leads to discovery of quality in various aspects of our daily lives, essentially enriching our living experience.
Learn more